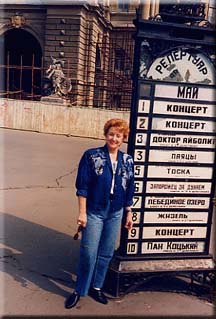 Excerpt from The White Plains Watch
January, 2003
Article by Judith Naomi Fish
After a twenty-two year career with the Metropolitan Opera Co. in New York City and decades of concert singing worldwide, Detroit born Shirley Love has come home to Westchester to live. Seated in her Hartsdale home the mezzo soprano reminisced about her peripatetic life as a performer and the satisfaction in "giving back now, to the musical community".
"This should be the natural progression of things", said the ever youthful Ms. Love, the vibrancy in her speaking voice hinting at the richness beneath. Although she continues to do occasional benefit concerts, Ms. Love devotes her principal energies these days to coaching younger singers and imparting the benefits of her knowledge and experience.
Who are Ms. Love's students? Professional singers, some of them, needing help with new repertoire or, as their voice matures, seeking fresh approaches to singing.
She describes the ideal teacher as "someone with a loving attitude who can be an impersonal listener. If you're an honest performer, you always want to be better; you can never stop learning".
Telephone: 914-723-5390
This site created and maintained by
VoiceTeachers.com
© 2005 Shirley Love